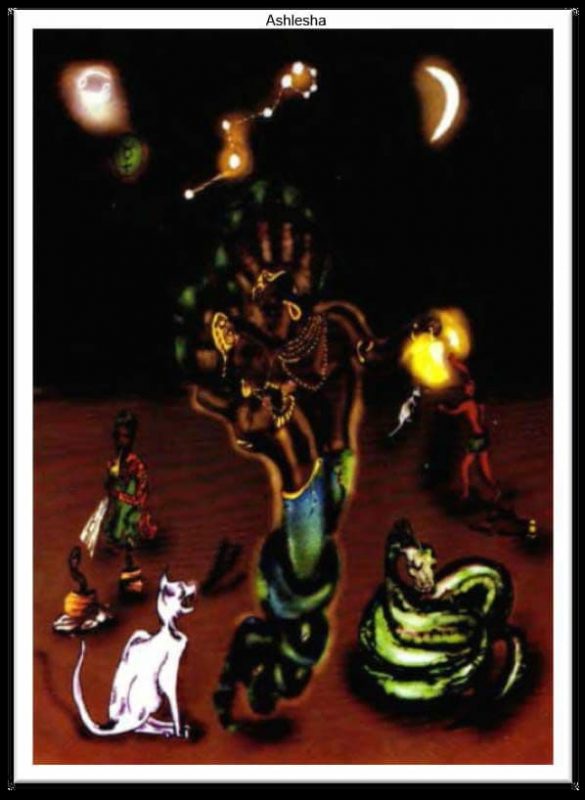 Frame above picture and keep where you stay most
Light Jala Deepa when possible
Chant VishNu Sahasranama Shloka 33-36 daily (Text and Vedio provided below)
Feed Cow with grass and offer sugar grains to Ants.
Give milk in Shiva temple, you can keep there or do Shiva abhisheka.
Can throw little milk in sea.
Feed milk to male cat.
Give green colored bangles and clothes to eunuchs (hijras).
Feed cows with green fodder or grass or vegetables.
Water Tulasi plant on Wednesday or daily except Sunday.
Never trust on what you hear, check yourself.
Wear a silver chain.
Wear 4 mukhi Rudraksha.
Bach Flower Remedy: Elm & clematis, Pomegranate.
Vishnu SaharaNama Shloka 33-36
Yugadi-krudyu-gavarto naika-mayo maha-shanah |
Adrushyo vyakta-roopaschha sahasra-jidanantajit || 33
Ishto-vishishta shishte-shtah shikhandee nahusho vrushah |
Krodhaha krodha-krutkarta vishva-bahurma-heedharah || 34
Achyutah-prathithah pranah pranado vasa-vanujah |
Apamnidhi radishta-nam apra-mattah prati-shtitah || 35
Skandah sanda-dharo dhuryo varado vayu-vahanah |
Vasudevo bruha-dbhanuh adidevah pura-ndarah || 36
Listening to Nakshatra Suktra also is Beneficial