Masik Shivratri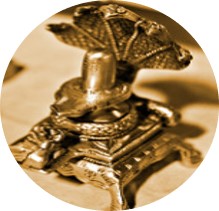 Masik Shivratri once in every lunar month. Masik Shivratri is celebrated on the 13th night or 14th day of each month, during the 'Krishna Paksha'(waning moon). It has a significance in the Astrological sense that energy is naturally moving upwards (Urdva), Though there are many legends and beliefs regarding Masik Shivratri celebrations, it is the day of the month which is considered most auspicious to pay homage to Lord Shiva.
There are many legends that explain why this festival is celebrated. A popular belief is that Masik Shivaratri is celebrated in reverence to the heavenly dance of creation, preservation, and destruction (The Tandava Nritya) performed by lord Shiva. On this day, devotees pray to the 'Nataraja'(The dancing form of Lord Shiva) to help them attain salvation by burning ego, lust, hatred, pride and jealousy.
Another legend says that Shiva had appeared in his iconic form of a 'Linga'(An abstract form of Shiva, commonly worshiped in most temples), which is the symbol of the energy of Shiva Himself. It is believed that Lord Vishnu and Lord Brahma, first worshiped Lord Shiva in the form of a 'Linga' on a Shivratri night.
An Anecdote from the 'Samudra Manthan' legend says that Lord Shiva saved the Earth from destruction on this day and so devotees celebrate the festival to honor their savior. During 'Samundra Manthan', a pot full of poison first emerged. The people were terrified as this poison, if spilled, would destroy the world. They prayed to Lord Shiva to save them all. Lord Shiva appeared and picking up the pot of poison, drank it but did not swallow it. The potent poison remained in his throat, turning it blue. In this way, He saved the earth from destruction. From that day, He was also called 'Neelkanth'.
Book A Pandit for Masik Shivaratri Puja
Book Over Phone 9448848815
Significance of Masik shivratri for women:
Shivratri has utmost important for the married women and young girls. They fast for their sons and husbands. Unmarried women pray to attain good life partner
Benefits of Masik Shivratri:
One can get liberation from their sins
It helps them to achieve success and prosperity
Drives away the evil spirit
Rituals / Puja of Masik Shivratri
Rudrabhisheka Puja
Maha Mrityunjaya Homa
Chanting of AUM Namah Shivay & maha mrityunjay mantras
Panchamrit abhishekam on shivling.
Fasting
Offering Bhoj To Brahmin priests
sakalapuja.com has a team of learned, qualified and experienced Pandits/Purohits/Pujaris, Astrologers, we take care of the entire process, from booking and assigning the qualified Purohit, choosing auspicious Muhuratha, selection and procuring of required Puja Samagri. All you need to do is to book the Puja, sit back and relax while we work on ensuring that you will have divine and satisfying Puja experience.
Book A Pandit for Masik Shivaratri Puja
Book Over Phone 9448848815