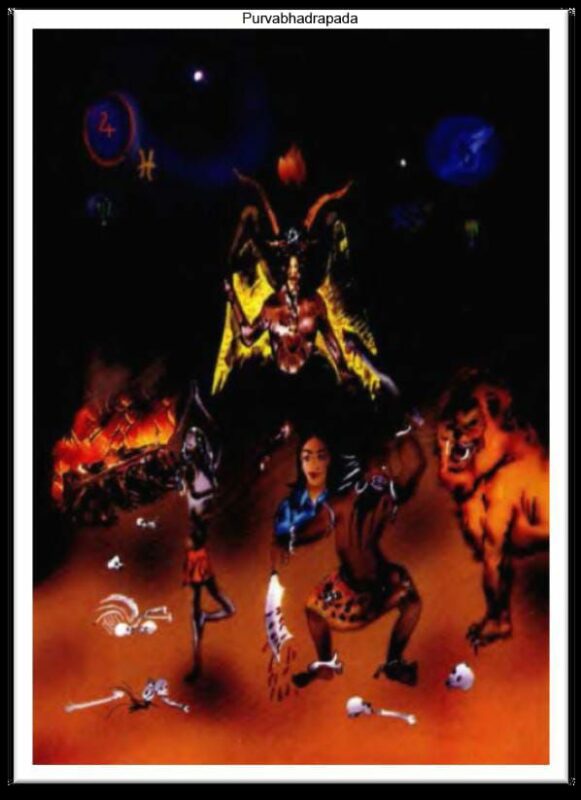 Print above picture, frame and keep in the place you stay the most.
Light Jala Deepa when possible
Take red chilies, salt and mustard (rai) rotate around the person and offer it into fire.
Purvadhadrapada of Kumbha rashi – Give iron items in temple. Fulfill any iron requirement of the temple, example: Chains, Rods, Locks, etc.
Purvadhadrapada of Meena Rashi – Give offering to your guru, you can give in Guru Raghavendra or Sai-Baba temple if you don't have a guru. Give yellow sweets.
Never cheat/ditch anybody
Put some saffron, some gol;d, some white grams, and turmeric in yellow cloth. Tie it and give the small bundle in a holy place or Temple
Eat saffron (kesar). Apply saffron on your navel (nabhi) and tongue in the morning after Sunrise and bathing.
Plant a peepal tree.
Give Yellow clothing to Temple priest.
Wear 5 mukhi rudraksha
Flower remedy: Wild Oat & water Violet, Red clover.
VishNu SahasraNama Shloka 97-100
araudraḥ kuṇḍalī cakrī vikramyūrjitaśāsanaḥ |
śabdātigaśśabdasahaḥ śiśiraśśarvarīkaraḥ || 97 ||

akrūraḥ pēśalō dakṣō dakṣiṇaḥ kṣamiṇāṁ-varaḥ |
vidvattamō vītabhayaḥ puṇyaśravaṇakīrtanaḥ || 98 ||

uttāraṇō duṣkr̥tihā puṇyō dussvapnanāśanaḥ |
vīrahā rakṣaṇassantō jīvanaṁ paryavasthitaḥ || 99 ||

anantarūpō:'nantaśrīrjitamanyurbhayāpahaḥ |
caturaśrō gabhīrātmā vidiśō vyādiśō diśaḥ || 100 ||