Best Puja Services in Bangalore, at your place
Who & What We DO ?
Chosen Some of the Best Pandits for All Puja Needs (so you can work on your things).
Act as the facilitator providing you the right Pandits / Purohits based on your needs & requirement.
Our Pandits perform North Indian Puja & Havan as well as South Indian Puja & Homa.
We provide Puja Samagri (material) if needed.
Why Choose Us ?
Facilitate highly qualified, experienced Vedic Pandits / Purohits to perform puja.
Unlike others, we have listed our prices online (in the booking page), which shows our transparency and genuineness.
We will try to be flexible in our timings to meet your needs.
We facilitate Pandits who speak Hindi, Bengali, Kannada, Marwadi, Telugu, Tamil, Malayalam, Konkani & More.
Provide Pandits for All North Indian and South Indian Festivals Puja.
Provide Astrology, Dosh Nivaran, Pariharam & Havan.
How it Book a Pandit?
To book a Pandit or any other queries, you can directly call us on 9448848815
You can also book a Pandit here, in case our number is busy (we are serving other Bhakta jan).
Various method of Payments, Online Transfer, we accept cash also.
How it Works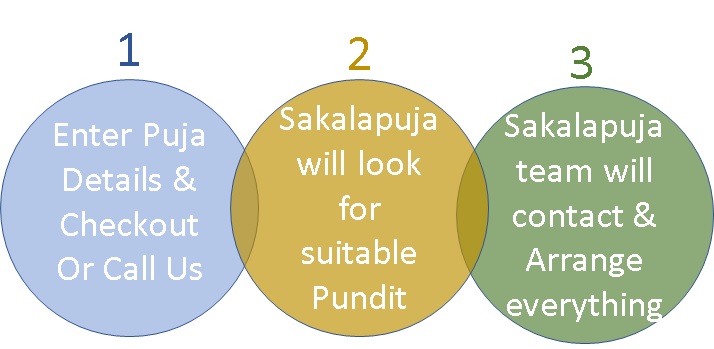 sakalapuja.com meaning all puja, is a one stop, online platform for providing hassle-free religious Pandit Services for all occasions, festivals, anniversaries and other needs at your doorstep, be at your home or office, we have teamed up with learned, qualified, knowledgeable and experienced pandits,purohits,pujaris and astrologers.All you need to do is Book a Pandit by entering your details, sit back and relax, sakalapuja team will take care of the entire process, from choosing and assigning the qualified purohit, matching you needs, language and region, checking for auspicious time/muhurat according to your nakshatra if needed, selection and procuring of required puja items/samagri and ensuring that you will have divine and satisfying puja experience.
You can also book by phone +91-9448848815 or email: sakalapuja@gmail.com
Best Pandit for Conducting Special Occasion Puja
Best Purohits for Festival Pooja
Purohit / Pandit / Priest, Astrology Services