Navagraha Puja & Homa / Havan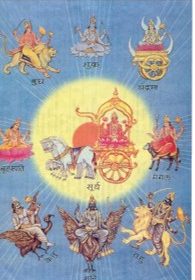 The Navagraha Homa / Havan is performed to invoke the blessings of the nine planets who govern your life. The placement of the 9 planets in your birth chart indicates your karma and the level of success or failure you will enjoy in your life. At times, there are chances that one or more particular planets may be afflicted to create stumbling blocks in your life. Performing this Navagraha Homa can offset the negative influence of the afflicted planets. You can enjoy longevity, good health, wealth and happiness by performing the ceremony to appease the nine planets for obstacle removal.
Details about Navagraha Homa:
All the nine planets play a significant role in your day-to-day life, and performing this homa can help you take full advantage of the powers they represent. The energy from the ceremony can neutralize the malefic effects of poorly placed planets and enhance the positive aspects of their attributes, allowing for a more meaningful and pleasant existence.
Attributes of each planet and what they signify are listed below:
Sun – good health
Moon – success
Mars – prosperity and wealth
Mercury – knowledge
Jupiter – education
Venus – art, music
Saturn -discipline and perseverance
Rahu – makes life stronger
Ketu – ensures prosperity
Book A Pandit for Navagraha Homa & Puja
Why perform the Navagraha Homa?
The Navagraha Homa is performed by our highly trained priests in accordance with the procedure prescribed in the Vedic texts for each planet. Special mantras and hymns are recited to derive the maximum benefits. All nine planets (Navagraha) are honored in this unique ritual. This special planetary homa can be performed on any auspicious horas. Performing the Navagraha Fire Lab has the power to release tremendous spiritual energy, which can help you overcome the difficulties of day-to-day life, and help you live in peace and harmony.
Benefits of the Navagraha Homa:
According to sacred Vedic texts, invoking the blessings of and pacifying the nine planets can bestow upon you the following blessings:
Overcome sufferings
Get rid of obstacles
Encounter success in all endeavors
Benefit from the luck factor
Attain blessings from all 9 planets
Lead a successful life
Conquer depression
Prove your efficacy
Growth in career
Enjoy marital bliss with your partner
Achieve academic success
Be blessed with longevity and prosperity
Businessmen can enjoy a prosperous phase
sakalapuja.com has a team of learned, qualified and experienced Astrologers, Pandits/Purohits/Pujaris,
we take care of the entire process, from booking and assigning the qualified Purohit, choosing auspicious Muhuratha, selection and procuring of required Puja Samagri. All you need to do is to book the Puja, sit back and relax while we work on ensuring that you will have divine and satisfying Puja experience.
Book A Pandit for Navagraha Homa & Puja