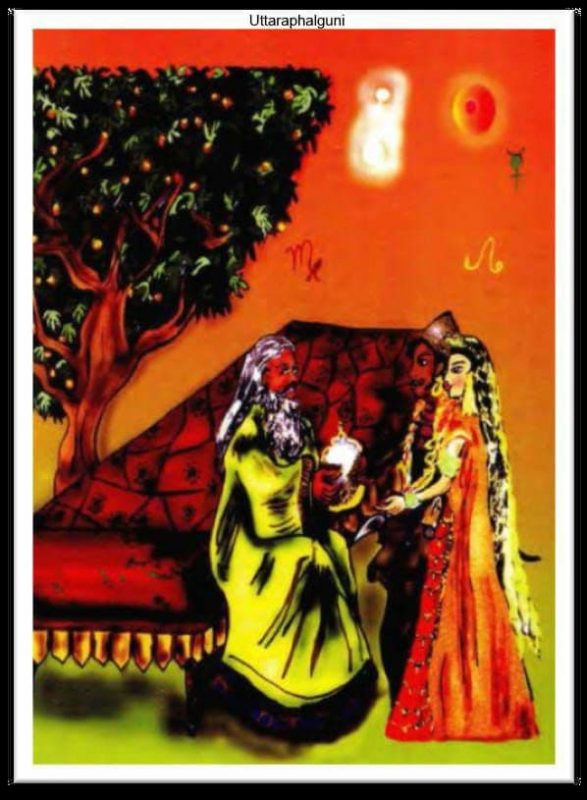 Print or frame the above picture and keep in place where you stay most.
Chant VishnuSahasranama Shloka 45-48 (Text and Video provided below)
Light Jala Deepa whenever possible
Workship 5 pearls with offering them curd rice.
Uttara Phalguni of Leo (Simha) rashi – Make your elders happy, take your family out for an outing.
Uttara Phalguni of Leo (simha) rashi – Donate 6 kgs of wheat to temple.
Uttara Phalguni of Kanya Rashi – Feed reddish brown cow, soaked green moong.
Respect parents and Grand parents.
Donate saffron, rose incense or Itar in a temple.
Give sweets made of wheat and jaggery to school going children.
Donate mustard oil on Satuardays.
Weat green color clothes on Wednesday.
wear 1 or 12 mukhi Rudraksha
Flower remedy: Centaury & Larch, White Yarrow.
Vishnu Sahasranama Shloka for Uttara Phalguni Nakshatra
Rutu-sudar-shanah-kalah para-meshthi pari-grahah |
Ugra-samva-tsaro daksho vishramo vishva-dakshinah || "45"

Vistarah sthavara ssthanuh pramanam beeja-mavyayam |
Artho-nartho maha-kosho maha-bhogo maha-dhanah || "46"

Anir-vinnah sthavishto bhooh dharma-yoopo maha-makhah |
Nakshatra-nemir-nakshatree kshamah shamah-samee-hanah || "47"

Yagna ijyo mahe-jyashcha kratuh-satram satam-gatih |
Sarva-darshee nivru-tatma sarva-gno gnana muttamam || "48"